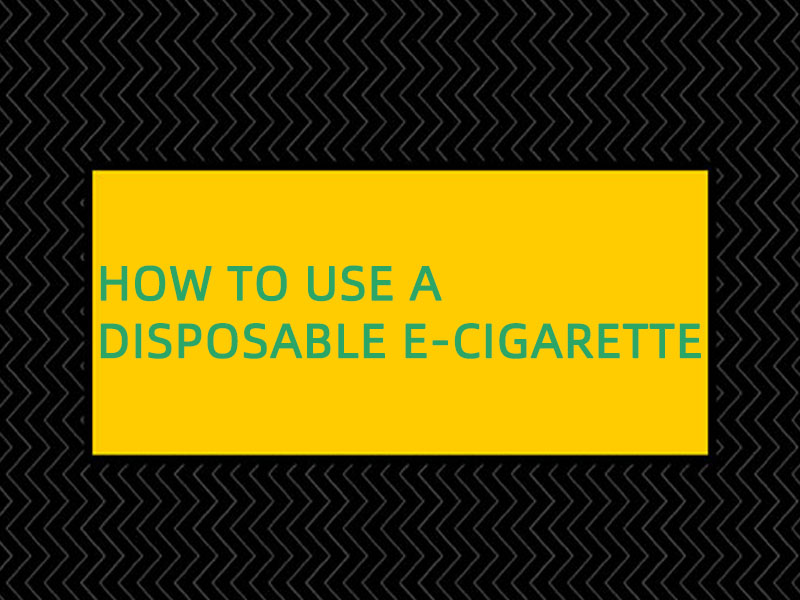 How to use a disposable e-cigarette?
The best part of using a disposable e-cigarette is that it comes out of the package ready for vaping. The battery is charged, and the cartridge is full of e-liquid. There are no buttons on the vape pen for most disposables. All that you need to do is puff on the vape pen as if you were smoking a cigarette. It has an airflow sensor, so it'll produce vapour automatically when you inhale. When the indicator no longer lights up, it's empty and you can dispose of it.
As for how long your disposable e-cigarette will last, it really depends on how much you're using it. It also depends on the make and mode of different brands, and how much e-liquid is in the device. But for sure, a disposable e-cigarette usually lasts for 400-500 puffs.
What are the different types of vapes and how to use them?
1.Heat not Burn
These products generally heat dry tobacco to create an aerosol that the user inhales, avoiding tobacco tar, carbon monoxide and other harmful substances caused by traditional cigarettes.
Usage:
Insert the pod and activate the device. The puff is good to go after warm-up. Remember to remove the pod and clean the device after vape.
Pros:
Less harmful than traditional tobacco
Closest flavour and taste to a regular cigarette
Cons:
Flavour yet to refine upon technology development
High cost of production
Hard to clean up after usage
2.Disposable E-cigarettes
The disposable e-cigarette is prefilled with battery charged and e-liquid contained. There are no manual steps other than unpacking.
Usage:
Remove the silicone plugsfrom the top and the bottom of the disposable.
When first using the disposable, it is recommended that you take a few short draws (lasting about 2-3 seconds) to activate the device.
It's time to discard your disposable e-cigarette if it stops producing vapour or has no battery.
Pros:
Easy to use
Conveniently pocket-friendly
Cons:
3.Rechargeable E-cigarettes
A rechargeable e-cigarette, as the name suggests, is a device whose pod could be replaced. There are two parts of the device, the battery and the pod. The battery could be charged and the pod is disposable.
Usage:
After opening the pack, have your device fully charged and pop the pod in. Keep your puffs long, gentle and slow. If you find your e-juice running out or the vapour burning strange, it means you need to replace the pod in order to continue your vaping journey.
Pros:
Recyclable of the device
More environmental-friendly
Various flavors to choose
Cons:
Timely charge the device
High cost of production
4.The Open Pod System
The open pod system is usually used by advanced vapers. Compared with other e-cigs, the open pod has a longer life span, larger battery capacity and greater vapour amount.
Usage:
Open pod systems come with empty refillable pods that you need to refill yourself. So it's a bit troublesome to use than disposables. To be specific, you have to open up the oil tank first and then fill it with e-liquid. When the atomizer is fully immersed in the e-liquid, you are free to pop the cartridge into the device. Pressing down the button, the vape is good to go. Coil inside the cartridge is consumable and need to be replaced when burning strange smell.
Pros:
Changeable atomizer
Vast selection of flavors and nicotine levels
Cheaper in the long run
More flexibility as a combo for user to design
Cons:
Longer learning curve for newcomers
What is the best vape for beginners?
Whether you're switching from cigarettes to vaping or just starting out as a vaper having never smoked, disposable e-cigarettes are a great first choice. A disposable e-cigarette, as the name suggests, is a short-lived vaping device. It's cheap, easy to use and you just bin it when the e-liquid it contains is finished. For those starting out on their vaping journey who are unsure if they want to make it a permanent habit, a disposable e-cigarette lets them vape without investing lots of time, effort and money in more expensive vaping devices and the many e-liquid refills on offer.