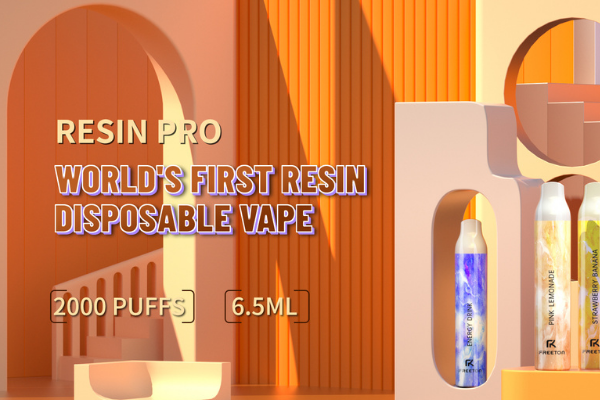 The RESIN PRO disposable e-cigarettes are very recognizable in appearance. If you put it together with other brands of disposable vape products, you will immediately be attracted by its color.
Resin Pro Disposable Vape Review
As we all know, innovation is the most important factor for a company to stand out amongst other competitors, which is more so in the disposable e-cigarettes industry. In 2017, FREEMAX launched the world's first mesh coil sub-tank, which became the best-selling sub-tank product in the United States that year. The same year GEEKVAPE launched the world's first three-proof pod mod, and it soon became the best-selling pod mod. For disposable vapes, FREETON is the pioneer for Reuleaux triangular disposable vape which was introduced to the vaping world in the second half of 2020. The Reuleaux soon became one of the best-selling vape products in 2021. FREETON holds the 'Quality First' concept, and always regards innovation as the core competitiveness of products and the foundation for survival and development. In early March 2022, FREETON innovated on product materials and launched the world's first resin disposable vapes--REESIN series. The RESIN series has 2ml and 6.5ml versions. This article mainly introduces the 6.5ml version, which is RESIN PRO.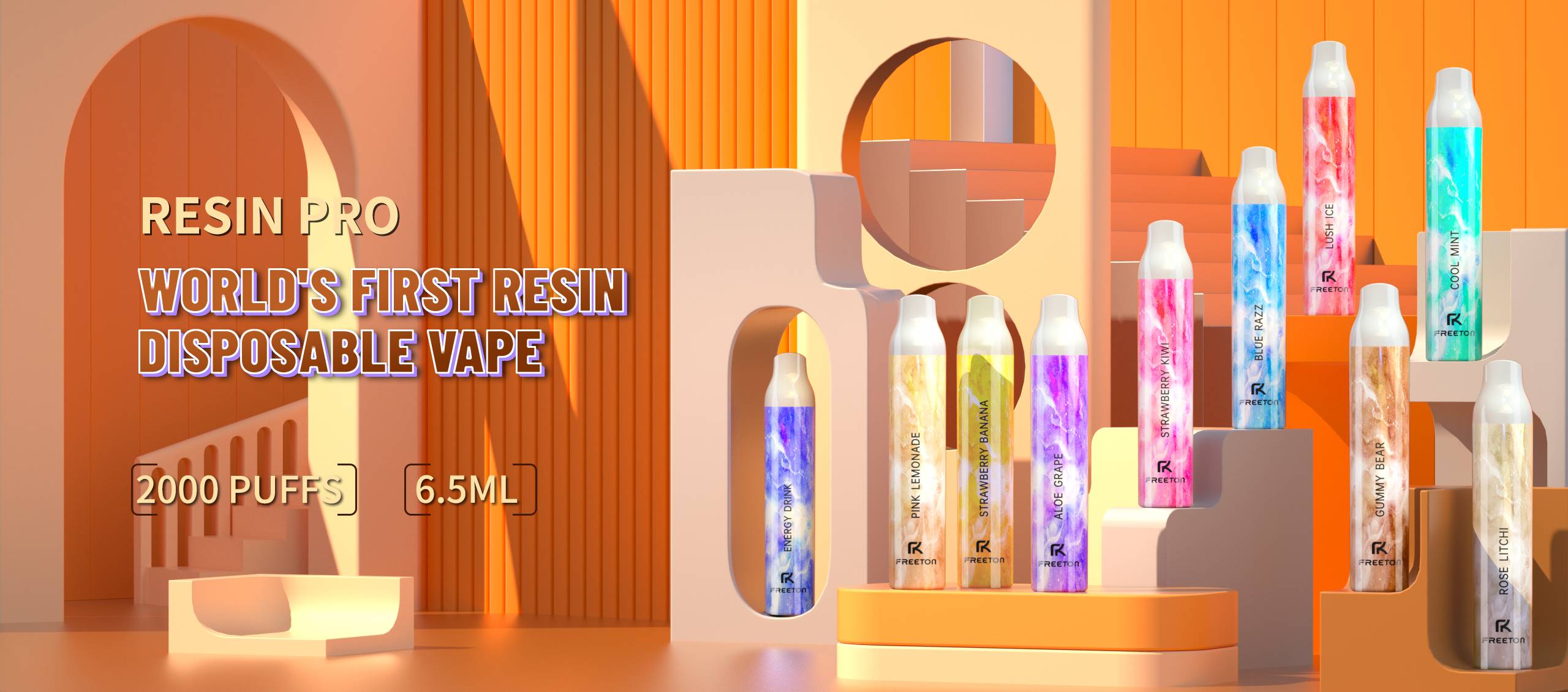 UNIQUE DESIGN
The RESIN PRO disposable e-cigarettes are very recognizable in appearance. If you put it together with other brands of disposable vape products, you will immediately be attracted by its color. Different from the basic color of disposable vape products on the market, the color matching of RESIN PRO is very layered. It is based on resin material, implanted with basic color and Uranus texture, and the outermost layer is coated with a layer of bright technology so that even in a dimly dark environment, the whole product is still clear and bright to see.
The FREETON logo and the corresponding flavor name are silk-printed on the front of the product, with the typography of golden ratio. The mouthpiece is made of PCTG food-grade material and has been treated with a glossy surface. It is ergonomically designed, and extremely comfortable to put in the mouth, which is more like a symbol of every FREETON's product. RESIN PRO is 111.5mm long and 21.6mm wide, which is almost the same size as the previously launched IRIS PRO, and it feels very good, and it doesn't take up space in pockets or bags.
FREETON RESIN PRO
FREETON RESIN PRO SPECIFICATION
Size: 111.5* 21.6mm
E-juice Capacity: 6.5ml
Battery capacity: 850mAh
1.4ohm mesh coil
Nic salt: 2% and 5%
Puffs: Up to 2000 puffs
Flavor: Lush Ice, Cool Mint, Strawberry Banana, Aloe Grape, Blue Razz, Strawberry Kiwi, Gummy Bear, Rose Litchi, Pink Lemonade, Energy Drink
PERFORMANCE
RESIN PRO is an all-in-one disposable e-cigarette that comes with 6.5ml E-liquid and 850mAh battery which offers up to 2000 puffs vaping. Mesh coil inside, better flavor delivery, and bigger clouds. Consistent and stable taste from the first puff till the last one. There are 10 flavors to choose from, including basic flavors and mixed flavors. Taste preferences are always subjective. I personally prefer the strawberry banana and blue razz flavors. As for battery life, it also varies from person to person. According to my vaping frequency of 400 puffs a day, it took me five and a half days to finish it, which means that the actual number of puffs can reach 2000 to 2200 puffs. Another thing that satisfies me the most is that during the whole five and a half days of vaping, I did not experience any burnt taste or oil leakage. And the degree of restoration of the taste from the first sip to the last sip almost remains the same. This reminded me of several disposable vape products launched by FREETON before, such as the IRIS series and the F-BAR series. I just cannot stop vaping on these tasty disposables.
In a word, innovation is the living water of an enterprise, and only continuous innovation can make an enterprise survive for a long time. As an innovative representative enterprise of the electronic cigarette industry, FREETON hopes to grow together with the industry and share innovation no matter how the policy changes in the future.